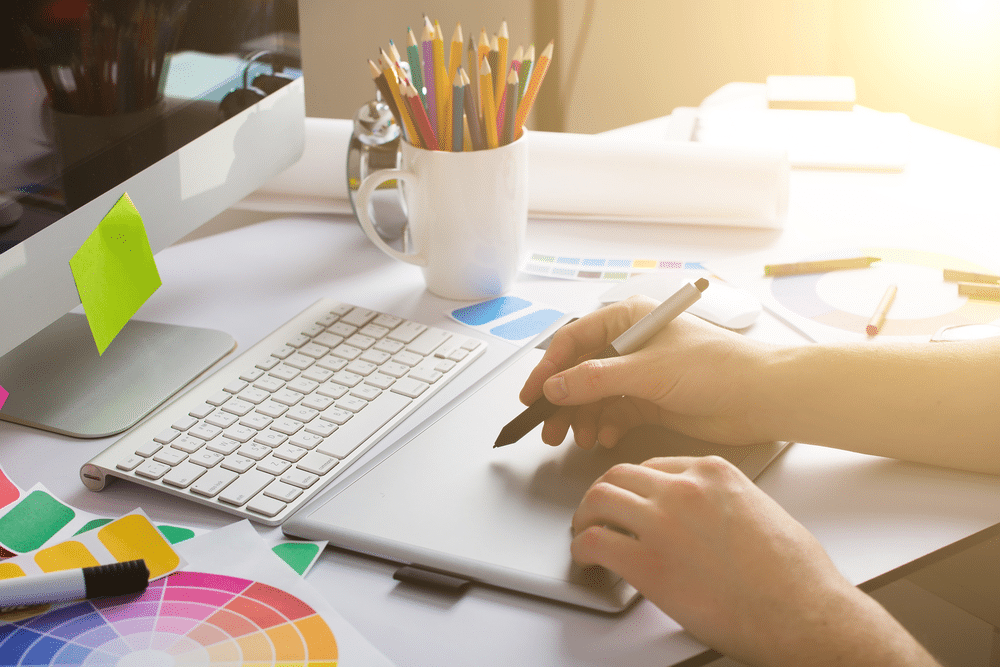 Becoming a graphic designer could be a great career path for may youths in Nigeria and unemployed graduates who are looking for new skill sets to keep them employment ready or become a freelancers. This article will server as a quick guide to help you take the first steps toward a career in graphic design field.
As a printing and branding company in Lagos Nigeria that offers graphic design services, this post is a free online course for beginner graphic designers. It provides an overview of the graphic design skills and tools you should learn, the best training options, career paths in graphic design, how to become a graphic designer and be creative doing it.
First,
What is Graphics Designing?
According to Wikipedia, Graphic design is a profession, a academic discipline and applied art whose activity consists of projecting visual communications intended to transmit specific messages to social groups, with specific objectives. Graphic design is an interdisciplinary branch of design and of the fine arts.
Who is a Graphic Designer?
A graphic designer is visual storyteller that transmit his or her messages through the combination of images, words, and graphics. He or she can communicate information and engage the audiences using creative designs. A graphic designer uses design elements, such as shapes, colors, lines, and textures to produce a range of artworks used in different life industries.
What are the Works of a Graphic Designer?
He or she creates everything from posters and products packaging, company logos and animations used in the printing and advertising industries; on business or ecommerce websites; and on the social media. Graphic designing is an essential part of the marketing and advertising efforts of a brand or company.
Thus, most graphic designers, also known as communication designers, can help other creative experts to build visually appealing designs that support a strong brand messaging and be able to evoke emotion or secure recognition from target customers or consumers. Now here are 5 steps on how to become a graphic designer from beginner, refresher and expert.
How to Become a Graphic Designer in 5 Steps:
#1. Learn Key Graphic Design Principles
To become a Graphic Designer, you first need a solid understanding of the principles of graphic design which involves a lot of planning, conceptualizing, crafting and applying of design theory and principles.
A good graphic designer need to understand elements such as lines, color, shape, space, texture, typography, scale, dominance, emphasis, etc. and learn how to implement them in every situation. All of these elements impact a design template and can shape how an audience feels and reads a design.
#2. Enroll in a Professional Graphic Design Course
A graphic design course teaches you the fundamentals of design and helps you build your skills through hardworking on different projects and and conducting A/B testing. Such graphic design classes will cover topics such as color theory, typography, layout, user experience(UX), graphic design tools and their respective software.
#3. Master the Key Graphic Design Tools You Need
There are a variety of tools and graphic design software that most Graphic Designers use. Most commonly are; Adobe Creative Cloud, Adobe PhotoShop, Adobe Illustrator, and InDesign. Others include Corel Graphic Suite, Canvas and so many others depending on your industry or field of use. You can get started with free online tutorials to have an idea of how these tools work.
#4. Develop Your Work Graphic Design Skills
After you have acquired the required creative skills in step2 and step3 above, this stage is the time to put your knowledge of graphic design principles and tools in practice. One of the best ways to develop your graphics design skills fast is to work with a team of other graphic designers, web design specialists, printing companies or marketing agencies in your area or online.
You can also grow your skills and master graphic design software from home by starting your on own design projects; creating mock ads and free company logos for small and medium sized businesses in your neighborhoods.
#5. Build You Graphic Design Website or Portfolio
A strong graphic designer website is essential to help you showcase your design works and introduce your brand to potential customers online or offline. Your graphic designer portfolio website should include projects you have completed for a course, personal or clients' projects you've done. This should be professional enough to create the first impression that every potential employers or clients will see and become interested in your creative design jobs or services.
Wrapping up: How to Become a Graphic Designer in 5 Easy Steps
Now you know how to become a graphic designer right? As a startup graphic designer, you can work in-house while creating beautify designs for companies or brands. Again, you can also work with creative agencies, or work as a freelancer on  freelancing platforms like Upwork.
More so, you can even start your own graphic design business and grow your experience and customer base. Contact us now to enroll for your professional graphics design training in Lagos Nigeria or start online course with us today. At iPrints.com.ng, you will learn the fundamental principles of graphics designs, practice graphic design tools, work on customers projects, and build your graphic design portfolio. Thank you reading this article!