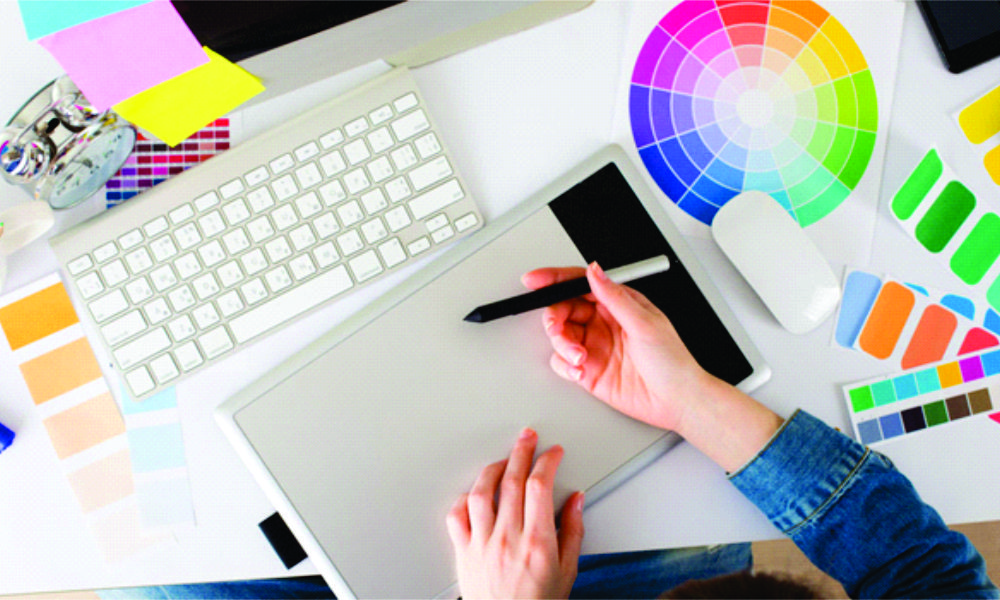 There are now lots of graphic design software, readily available to anyone. Computers, smartphones and the internet are also available. So why should I hire a graphic designer in Nigeria? Why should I pay for a logo designer when I can do it yourself? In this post, you will get all the answers you need. We have highlighted 5 Reasons why you Should Hire a Graphic Designer. We will also discuss 5 reasons not to or 5 reasons why you should do it yourself.
Let's get started.
5 Reasons to Hire a Graphic Designer in Nigeria
#1. Creativity at Its Peak
When you hire a graphic designer, you will get all the creativity you need. This isn't so hard to see, as most designers are very creative. Pay them enough and they'll help you get the most out of that project.
Hiring a designer means you'll end up with a better visual art than you could have put together on your own [even if you have a few design skills].
Even if you both have the same idea, a designer may produce a more eye-catching, visually appealing crisp looking piece than you would have designed.
#2. Brand Consistency
Brand consistency is all about creating and delivering the same brand messaging, voice and visual elements in every graphic, and piece of content.
Being consistent in your branding will help you earn the trust of potential customers. Contrary to what most business owners and solopreneurs think, branding is much more than colours, nice fonts and a fancy logo.
If you use different logos, fonts and messages each time, it will be difficult to present your brand, business or company as professional.
Hiring a graphic designer is very crucial to maintaining a consistent branding style and tone. Designers know how to spot these little details and make every content fit with everything else.
#3. You Can't Afford Not to Hire a Graphic Designer
Graphic design tools and software are available to everyone with a computer, or even a smartphone. However, most of them are not cheap [especially reliable and professional ones].
Some have free and premium versions. If you want to design graphics yourself, you'll see the free version doesn't really suit your needs, and the premium version is way too expensive [and you don't need all features].
So, what do you do? The best guess is you already know what to do. Hire a graphic designer in Nigeria that can save you a lot of hassles.
Come to think of it. You won't have to pay for Corel Draw, Photoshop Express, Adobe Illustrator, Canva and all those professional graphic design software.
A usual graphic designer will have all these software and tools at their disposal. Paying them per project saves you more money than you buying this software and doing the job yourself.
Like we said earlier on, you can't afford to not hire a graphic designer!
#4. Stay Updated on the Latest Trends
Your business is not the only type out there. You'll have competitors, and most of them are not using the same branding strategy as they were years ago. They research what's trending and attract potential customers.
When you hire a graphic designer in Nigeria, he/she will keep track of what's trending on your behalf. You can use a designer to give your branding a new and fresh look.
#5. Stay Confident, and Take Pride in your Marketing
If you designed your business card, flyers and many or marketing collateral yourself without involving an expert; it may, or may not look good. Whenever you share it with a potential customer, you'll find yourself in doubt as to whether he/she likes it or not.
On the contrary, hiring a graphic designer will make your feel extra confident and you will take pride in marketing your business.
If your designs are outdated or poorly designed, you may feel obliged to keep them behind the counter or store them in some cloud storage. A good design will always motivate you to post on social media.
Now let's look at 5 reasons not to hire a graphic designer in Nigeria
5 Reasons NOT to Hire a Graphic Designer [Do It Yourself]
We've talked about why you should hire a graphic designer in Nigeria. Now, there are a few unusual occasions where hiring a designer is not really necessary. Let's dive into the matter here.
#1. You Want it as Cheap as Possible
This is usually noticeable in new business owners, solopreneurs and small-scale ventures. Most of them have little or no budget for professional graphic designs and may want to spend as little as possible or nothing.
Some people feel the only way to save money [in the short run, of course] is by doing every startup task themselves. If you're one of such people, then hiring or outsourcing graphic design may not be your best option.
#2. You Don't Care About Brand Consistency
Some brands and businesses have limited coverage. They only operate in a particular region/neighbourhood and most of their potential customers are within the area.
As a result, many of them may see brand consistency, brand equity [and even branding itself] as unnecessary task. Besides, a lot of free fonts and images are available online, so why not do it themselves?
#3. You Don't Have Time to Find the Right Graphic Designer
Let's have a moment of truth. The internet, smart phones, tablets and personal computers have made graphic design tools available to everyone.
So, anyone can read a few blog posts, watch some YouTube videos and then claim to be an expert in graphic design [sic].
In light of this, many business owners and startups founders have lost faith in hiring experienced graphic designers. As a result, they don't bother looking for the right designer anymore. To them, the only way out is by designing graphics themselves.
#4. There's No Need to Stand Out Your Brand
As we said earlier, some businesses operate only within a particular region or street. Chances are they are the only business offering that kind of product or service.
In that case, they have little or no competition to warry about, thus, there is no need to create brand awareness and promotion though outstanding graphics.
If your competitor's marketing is poor, then there's no need to stand out, I guess. In that case, you can just grab some free template on Canva, stick to the rest of the cloud and blend in.
#5. You Don't Care About Marketing
Some business owners see marketing as a means to an end. Nothing more. They don't care if their business card is professional, or if their contact details are hand-written at home and cello-taped together.
As long as people know about their business, they have no worries at all.
Your business belongs to a particular industry, and that means it's not the only type out there. You'll have competitors, and most of them are not designing graphics themselves.
The Bottom Line: 5 Reasons why you Should Hire a Graphic Designer in Nigeria
Hiring a graphic designer will save you a lot of time, money and resources in the long run. But that may not always be the case.
In this post, we have outlined 5 reasons to hire a graphic designer in Nigeria. We also discussed 5 scenarios why hiring a designer is not necessary for some people or business. You can go through the post and decide which is best for you, and your business.
As a graphic design company in Lagos Nigeria, we can help your business stand out among its competitors and resonate with potential customers with great artworks and design samples that suit your brand goals.
We wish you success in all business endeavours. Thanks for reading.