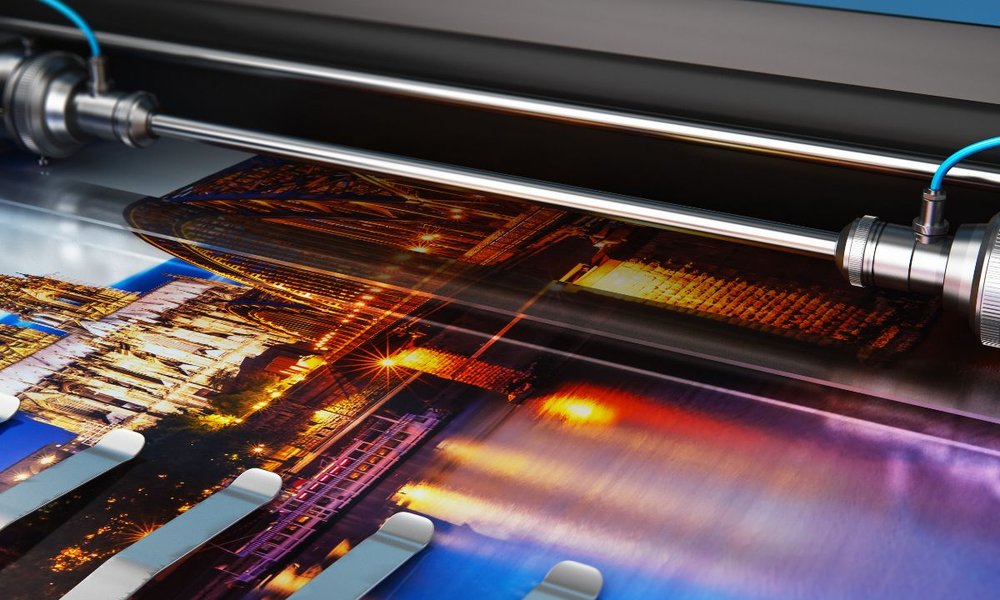 The post will highlight the 10 top printing companies websites in Nigeria based on design features, mobile optimisation, clear calls to action, stunning design, Google ranking and easy to use. They are arranged in no special order so feel free to drop your comments.
10 Top Printing Companies Websites in Nigeria
#1. iPrints Nigeria
iPrints is professional printing and branding company in Lagos Nigeria that provides high quality printing and advertising solutions for small and medium sized businesses at a competitive pricing.
This printing company has a great website that can be categorized among the Top 5 Printing Companies Websites in Nigeria and Africa. They take online orders and deliver to customers locations nationwide.
Located at No. 26 Awofeso Street, Palmgrove, Shomolu Lagos, they print customized t-shirts, business cards, invitation cards, notepads, letterheads, roll-up banners, coffee mugs, shopping bags, custom signage and much more.
#2. Printrite
Printrite is a leading one stop platform for all design, printing, packaging and marketing services in Nigeria.
Located at Suite 1, Rear Wing, Plot 75 (Edo House) Ralph Shodeinde Street, Central Business District (CBD), Abuja; they offer creative designs and printing services to governments, corporate bodies, businesses and individuals through their ecommerce website.
#3. PrintHouse
PrintHouse is a print shop located in the Pedro axis of Gbagada, Mainland Lagos State. They are perfectionists; people of excellence and this is obvious in their printing company website.
The print t-shirts, caps, signage, fliers, business cards, banners, notepads, envelopes, calendars, brochures, souvenirs, etc.
#4. KiakiaPrint
KiakiaPrint is a Lagos based printing company in Nigeria that is located at No. 9, Bajulaiye Road, Somolu, Lagos.
Using their printing company website is "world-class". You can order online and have it delivered the same day. They print business cards, wedding cards, calendars, rollup banners, brochures, stickers, etc.
#5. Printivo
Printivo is an online design and print platform that uses technology to make printing services available for Individuals and SMEs.
Located at No. 180, Moyosore House, 182 Ikorodu-Ososun Road, Onipanu, Lagos; they design and print business cards, flyers, mugs and other prints products and deliver same to customers doorstep within 3 -5 working days.
Other 5 Top Printing Companies Websites in Nigeria
#6. Eloquent Prints
Eloquentprint is a design and print company located at No. 9 Fadeyi Street Ikeja, Lagos. They produce high quality print jobs at the best possible price.
Whether you a small business, corporate organization or individual, they print everything from business cards to banners, brochures, roll-up banner, paper bags, note books, stickers, lanyards and so on.
#7. Lasprint
Lasprint is a smart print shop based in Lagos; a leading provider of smart and innovative solution in digital printing, direct imaging printing, offset printing, and large format printing.
Located at Suite 67, Abraham Adesanya Shopping Complex Ikorodu Road, Onipanu B/stop Somolu Lagos Nigeria; they offer clients a wide variety of printing solutions that saves time and money, and enhance the printing abilities of their organizations.
#8. Lexoft Printing
Lexoft is a one-stop printing and branding company proudly serving West Africa with our head office at Ikeja Lagos Nigeria.
Located at number 5, Agbaoku Street Opebi Ikeja Lagos Nigeria; They offer everything from offset printing to direct imaging and large format printing, promotional products, top-quality custom printing, and more.
#9. Abbakin Printing
Abbakin is a Nigerian modern printing and digital marketing company located at No. 20 Abaranje Road, Ikotun Lagos, Alimosho, Lagos.
They design and print office stationery, business cards, letterheads, brochures, marketing materials like flyers, posters, outdoor signage, custom t-shirts and rollup banners, and provide products packaging, and more.
#10 Kong Marketing
Kong Marketing is a marketing company in Lagos, Nigeria that is into printing of business stationery, flyers, brochures, business cards, corporate souvenirs, awards and gift items.
They are located at No. 19 Okunfolami Street, Anthony, Ikeja, Lagos Nigeria.