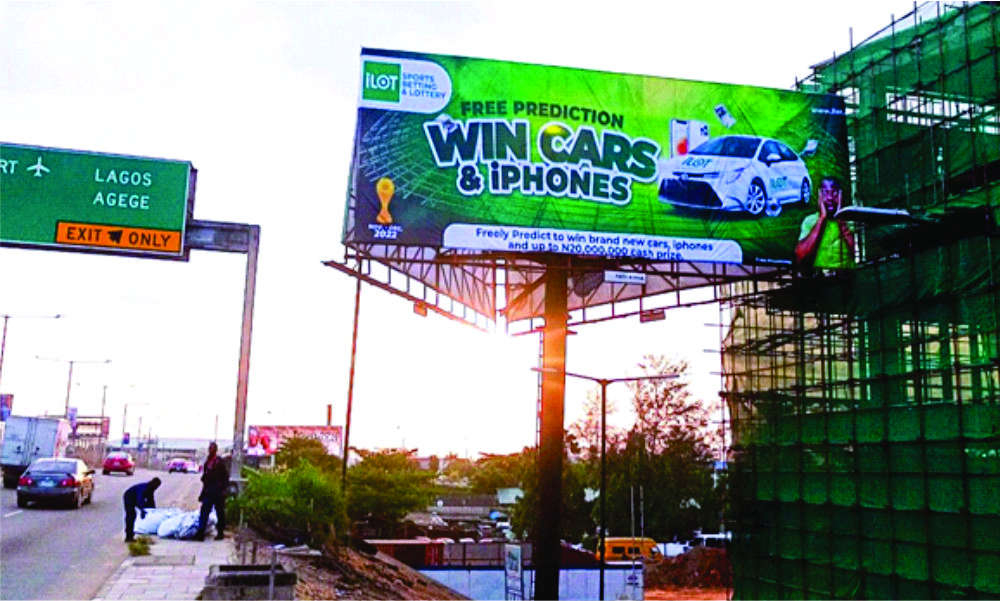 Connect with more customers with billboards advertising in Negara. For many years now, billboards have been a popular advertising medium for many brands, businesses, celebrities and companies. However, there are many important steps to follow to get the best results. In this article, you will learn how to design and install billboards in Nigeria, whether you are based in Lagos, Abuja , Port Harcourt, Kano Nigeria or across other states in 10 easy steps.
If you're a small-scale business owner, entrepreneur, marketer, manager, developer or media advertiser, this post will guide you through the process of creating and launching an effective billboard campaign in Nigeria.
iPrints offer integrated marketing solutions and outdoor advertising campaigns for businesses, individuals and events planner; including graphics designing, promotional media planning, signage making, billboards banner printing, construction and instantiation to increase your brand visibility, generate traffic and you're your revenues.
The cost of billboard advertising in Nigeria depends on the state (Lagos, Abuja, Port Harcourt), the location or highway, the type of billboard, size, or the estimated traffic in that area and number of viewers per day. Other things to consider include the cost of printing on banner or billboard signage materials, metal fabrication, base casting and logistics to the installation site. Contact us now to get a free cost estimate.
What is a Billboard?
A billboard is a large outdoor advertising structure that is usually positioned in commercial areas, city centers and other highly visible locations across the country. It is a flat surface display board usually made of vinyl PVC banner, or other durable materials, onto which graphics, text, image or other visual elements are printed.
There are different types of billboards, however, a digital billboard is a billboard that displays digital images that are changed by a computer every few seconds. Digital billboards are primarily used for high resolution advertising, but can also serve as public television show channel. Mobile billboards on the other hand target motorists and pedestrians depending on your city and road traffic.
When installed along city highways, streets or events centers, the purpose of billboards is to capture the attention of your target audience such as people who are driving, riding, observing, crossing and walking by. It is used to creates awareness for a brands or products, increase visibility and delivers a unique message to the rightful consumers.
Importance of Billboards for Businesses in Nigeria
#1. It Provide High Reach
Billboards are usually positioned in busy areas with high traffic. This makes it a wise method to reach a large number of target audiences at once.
#2. It has Cheap CPM
Cost Per Mile [CPM] describes how much it will cost to get one thousand impressions from a unique audience. CPM of a billboard can be as low as ₦1000.
This means the billboard advert will reach 1000 eyeballs for just 1000 naira. When compared to television, radio, and print media, billboards advertising can be very affordable.
#3. It Creates Brand Awareness
As we said earlier on, billboards are not made to generate immediate sales. Their primary purpose is to grab attention of the potential customers and create awareness or information about a business, idea, product or service.
This is done with identity brand value, company logo, brand color, image and other visual elements. If you consistently display your brand's image and messages via a vintage billboard, chances are that your consumers are more likely to remember and develop a sense of familiarity and resonance.
#4. Billboard Ads are Not Disruptive
Unlike radio, TV, social media and mobile ads that interrupt the audience' daily activities, billboards are not intrusive campaign. They allow viewers to view your brand message at their own pace and convenience.
#5. It is Immune to Ad Blockers
Many people now use ad blockers in their smartphones or personal computers when surfing the internet. Which means that your social media adverts or Google Ads campaigns may not show on their screen; meaning that your ad may not get to as many of your target audience as required when this feature is turned on.
With billboards signage, nothing like that can happen, rather you keep drawing attentions to your company products or services. Now let's discuss properly how to design, print and set up your billboard signs in Nigeria.
How To Design and Install Billboards in Nigeria
#1. Choose a Good Location
Popular billboard locations in Nigeria are busy highways, airports, and commercial districts like Victoria Island, Ikeja CBD and Lekki in Lagos. Note that the best location for mounting your billboard depends on your specific business needs or campaign goals.
You may want to consider the following factors while finding a location:
Visibility: Choose a location that is visible to your target audience.
Audience: Know the demographics of your target audience. This includes their age, gender, income level, and lifestyle. Choose a location that aligns with their habits, daily route and interests.
Competition: Don't use places that have many of other billboards or advertisers. If you position your billboard in such places, your brand message may be diluted or overshadowed.
Lighting: If the location is poorly lighted, you may need to install additional lighting to ensure that the billboard is visible at night.
#2. Pick the best Billboard Style
Based on Number of Sides, we have:
Double-sided billboards
Single-sided billboards
Triple-sided billboards
Half-sided billboards
Full-sided billboards
Based on Type of Style, we have:
Static billboards banners
LED/ Digital billboards
Bus or mobile billboards
Interactive billboards
Static billboards are simple and fixed billboards. Digital billboards display dynamic and animated content. While interactive billboards allow for real-time engagement with the audience. This type is not common in Nigeria.
#3. Pick the Right Size
Note that the size of your billboard will be determined by the location you've chosen, the approve size; your marketing and advertising budget, the message you want to convey and your competition.
If your competitors are using larger billboards, you may need to match their size so that your billboard can be visible. Common billboard sizes used in Nigeria are:
10 x 20 feet
12 x 24 feet
14 x 48 feet
20 x 60 feet
Note: The last two on the list are commonly used on busy highways and major roads.
#4. Pay and Obtain Permits
The next thing to do is to identify the relevant authorities regulating billboard installations in your preferred location. Submit an application and pay the necessary fees, after which you will be given a permission to go ahead.
Even if you are using already installed billboard space, there may still be advertising fees to pay to the state or local government. Ensure you comply with all government regulations and conditions specified in the permit.
Your billboard might be removed if it violates local or federal government laws. Or when you exceed the specified dimensions in a specific ad space. That is why it is important to process this permit before you start designing and printing your billboards.
For those advertising in Lagos, you need to pay for Advertising Practitioners Council of Nigeria (APCON) fee; and Lagos State Signage and Advertisement Agency (LASAA) permit fees for your billboards advertising in Lagos State to be up and running.
#5. Hire Best Billboard Designer
After choosing your billboard size and location, and of course getting the government ads agency permission; you will need a professional billboard graphic designer to create eye-catching artwork for your billboard advertisement placement.
In this, we recommend you consider experienced branding, printing and outdoor advertising companies in Nigeria like iPrints; with in-house graphic artists who will work with you until you get the best result. We will give you a stunning billboard branding that will grab the minds of the people viewing your billboard ads.
When designing, use big, bold fonts as against contrasting background colors and avoid narrow, script fonts. Also, choose bright colors that stand out to the viewers. Get your story straight, keep it short, sweet and safe!
#6. Print your Billboard Design
After designing the billboard, send it to a printing company that will bring your idea to life. For the best results, we offer the best large format printing service to fit your purpose.
We specialize in quality wide format printing, offset and digital printing, creative graphic design, identity branding, as well as digital marketing and outdoor advertising for your businesses and events.
We do all printing jobs that will promote your business at amazing prices; starting from custom business cards, to flyers, handbills, company letterhead, business signs, brochures, event billboards and exhibition materials, custom T-shirts and lots more.
#7. Fabricate Billboard Stand or Structure
While your custom billboard banner is being printed, we can work on fabricating the structure, stand or base that will hold the billboard in place. The structure should be made of high-quality material so as to resist harsh weather conditions such as wind press or rain falls.
 When it comes to billboard fabrication, always work with experienced metal fabrication companies with good welding, cutting and engineering tools. If you are not using wood for your billboard base; we offer well fabricated plastic, aluminum frame or metal billboard stands to meet your utmost quality standard.
#8. Install the Billboard
After the fabrication is done, your best billboard should be erected properly and strongly. You should hire experienced billboard installation company with skilled personnel to mount the billboard on your behalf.
At iPrints Signage Company, we have a team of billboard designers, fabricators, printers and installation experts to handle every step with special care and passion it required.
#9. Maintain your Billboard
It's important to check on your billboards at intervals. Clean it regularly, check for any damages and repair your billboards as soon as possible.
If your billboard is in a rural area, avoid greens, blues, and browns colors. Use brighter colors to avoid vehicular or human damage. Listen to the people's needs, get feedback, improve and protect your billboards.
If you let us do the job, we will provide you with monthly or weekly on the progress of your billboard campaigns.
#10. Track Billboard Performance
You should also keep track of how your billboard is performing in terms of lead generation and brand awareness. There are several ways you can measure the ROI of your campaign. If your business has a unique brand name, slogan, or catchphrase, you should take advantage of that.
Research how often your business name is searched on Google and record the increased number of vehicular or human traffic. This will give you insight into how often consumers are viewing your ad and engaging with it along the road or online. You can also create a dedicated sheet and record calls, sales and enquires you are receiving from potential customers since you installed or activated your billboard advert.
Again, each time a customer buys your product or a client uses your service for the very first time, remember to ask them how they learn about your business or service. Whether they made use of your outdoor banner advertising platforms, or through BRT bus advertising, digital banner ads, and LED displays; this method will help you track which of your ad placements are working best and which ones that need improvement.
The Bottom Line: How To Design and Install Billboards in Nigeria
Out-of-home advertising using billboards is one of the most effective ways to promote your business to a large audience. While it may not drive immediate sales, it will create massive visibility for your products or services in the long run.
In this post, we have learned how you can set up a billboard in Nigeria or how to design, print and install billboard in Lagos or any other roads in Nigeria. With careful planning and attention to detail, you can create a successful billboard campaign signage that will grab attention out there and increase your sales.
Remember to pick an ideal location and use clear colours and fonts in your designs. We hope this guide has provided you with valuable insights and tips to help you get started. As top outdoor advertising company in Lagos Nigeria. Whether you need polestar banners, mesh banner, custom outdoor banner, flag banner or lamp post; you can Contact us for further assistance. Thank you for reading.