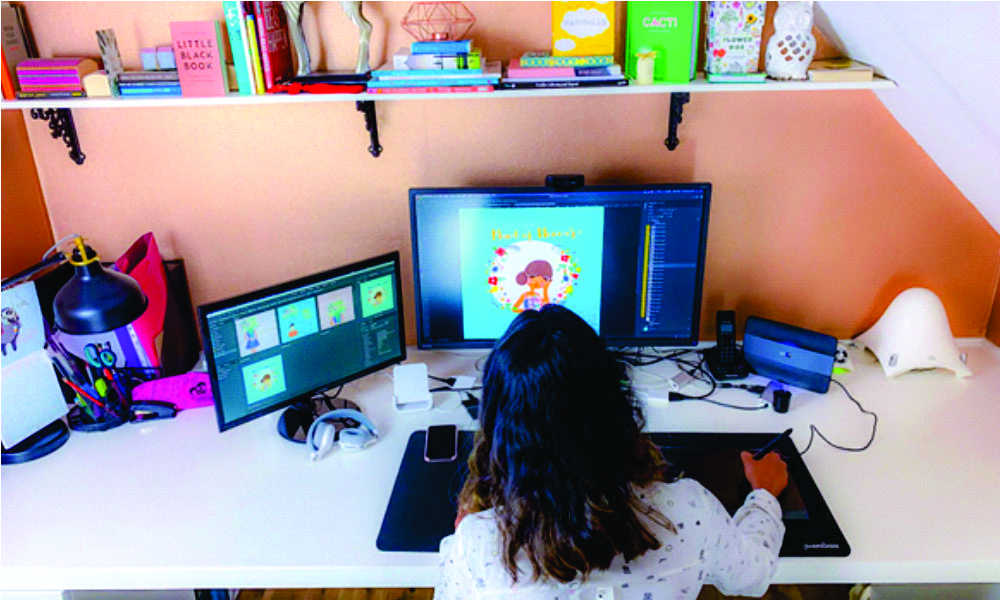 There are many ways to make money as graphic designer in Nigeria. Nowadays, you don't need glamorous certificates like in the old days before you can make money with your graphic design skills. In this post, we have explained how beginners and experienced graphic designers can make money in Nigeria in 5 easy ways. Let's start with the most popular one.
How to Make Money as Graphic Designer in Nigeria
#1. Become a Freelance Graphic Designer
Almost everyone knows what freelancing is; it's a type of self-employment where you can work for people at your own time. Instead of being employed by a brand, business or company in a 9-5 arrangement, freelancers tend to work as self-employed individuals and experts; delivering their services and getting paid per contract or project.
You can make money as a graphic designer by freelancing for local clients or businesses in your area such as restaurants, hospitals, etc. However, this is not a reliable way to enough make money in this economy, since it can be hard to get local clients regularly.
There are many online freelancing platforms that make it very easy for you to land on clients online; like Fiverr, Upwork, Freelancer, etc. These platforms let independent graphic designers and creative artist open portfolios profiles on their sites for free.
When clients showed interests in your skills, impressed with your portfolio and satisfied with your payment rate; they may hire you to work for them and there you go! Remember, these platforms may collect percentage commissions on cost of projects done.
#2. Get Employed as a Graphic Designer
Almost all businesses need the services of a well-trained graphic designer in each year. Businesses need a graphic designer for their re-branding, marketing, advertising, social media; the list goes on. Note that the job arrangement may be in-house or virtual (over the internet).
Getting hired by a company that pays monthly offers the best security. While you may (or may not) earn more from freelancing, having a specific job is better. At least, your graphic designer for their re-branding, marketing, advertising, social media; the list goes on. Note that salary is fixed, so you can easily plan your budget and spend wisely in anticipation of your next payment period.
And besides, who says you can't surf the web and freelance online for extra clients after office closing hours? [Smiles]. At iPrints Nigeria, we teach graphic designing in our studios and hire best in class graphic designers to work on our clients' orders.
#3. Sell Graphic Design Courses Online
Here's another brilliant way to make money as graphic designer in Nigeria. Lots of people want to learn graphic design online but can't find a good tutor platform. Good tutors are out there, but they charge a fortune. You can make a difference in people's lives while also earning a few Nairas in the process.
If you're confident in your graphic design expertise and have learned advanced tools, you can increase your list of potential customers, while creating online courses and training future design professionals.
To make the training more enticing for people to sign-up, you can make the first 2 phases of the training free for all. From there, whoever wants further access has to make a payment. You can hire our web designers to help you. Remember that you will need a social or collaborative platform for this to work. You can use WhatsApp, Telegram, Slack, Skype, etc. if that is what you want.
You may also need a conferencing service platform like Zoom or Google Meet. And one more thing. Don't forget to set up a shared cloud storage service for your learning materials. Selling your knowledge through workshops and webinars is indeed an amazing way to make money as a beginner graphic designer tutor.
#4. Create Templates and Digital Products
Many platforms allow graphic designers to sell their products to clients online. Some of them are:
We offer a very rewarding way to earn money as graphic design in Nigeria while creating digital products and designs for our Print Shop. Connect with us to learn more on how you can start earning money right away!
You won't have to create a design and wait for the client's feedback. Instead, here's what you'll do. You start by creating some design templates most people will be interested in and signing up on these platforms as we mentioned above.
From there, you can upload your templates and on demand digital products, and wait for interested clients to buy in case you are creating artistic works like frames and canvas, wall decals, portraits, and specials designs.
#5. Start Your Graphic Design Agency in Nigeria
A graphic design agency usually comprises of designers, animators, content creators, copywriters and a few other professionals, all under one roof. Most businesses may not have the time or resources to hire an in-house graphic designer. In that case, they will most likely outsource their graphic design projects to a well preforming graphic design agency they trust.
By working with a team of experts, such businesses can focus on other important aspects of their business, while letting the graphic design agency to handle their designs and content creation department. It's not easy to start a graphic design agency in Nigeria. Aside from the funding you'll need to get started, you'll also have to interview and hire professionals who will occupy vital roles in your new company. Here's a short guide on how to start a graphic design agency in Nigeria:
How To Start a Graphic Design Agency in Nigeria
Name your graphic design business
Register your business name with the CAC
Get your tax ID number and rent an office space
Start working on your brand identities
Develop a business plan and marketing strategy
Create a professional online portfolio website
Set your pricing and setup your payment system
Land your first client(s)
Deliver high-quality work
Invoice and collect payment
Gather testimonials
Ask for referrals
Keep searching for new clients
Invest in marketing and advertising
The Bottom Line: How to Make Money as Graphic Designer in Nigeria
Graphic design is a very lucrative business in Nigeria. A lot of companies and business owners are looking for experience graphic designers to handle their corporate branding, logo designs, creating of online digital ads, products labels and advertising materials like business cards, banners, flyers and so on and so on.
You can learn and make money as graphic designer in Nigeria, using the five methods we mentioned above. But remember, you will have competition in your niche no matter what it is. Think carefully about your potential clients, you're pricing and offers.
Starting small may help you get a stronger foundation, working with others will build your expertise, and then you can expand out as you become a profitable registered graphic design company in Nigeria. Thanks for reading so far. We wish you success in all future endeavours. Contact us for further assistance.