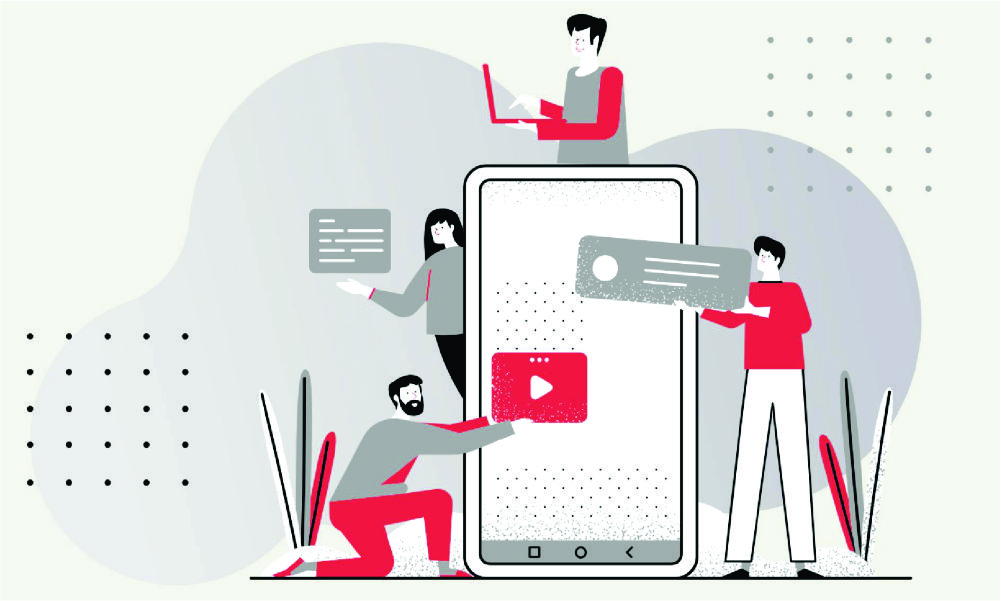 Regardless of how skilled you are in graphic design; you can't do much unless you have the right tools at your disposal. In this post, we have highlighted the 10 best graphic design software for mobile phones and PCs.
Let's start with the most popular ones.
10 Graphic Design Software for Mobile Phones & PCs
6 Graphic Design Software for PCs
#1. Adobe Photoshop
This is one of the best graphic design software for personal computers (PCs). Adobe Photoshop is the industry standard for graphic design software. It has an extensive range of features, including the ability to create and edit photos, illustrations, and 3D artwork.
Adobe Photoshop is easy to use, has a vast user community, and is compatible with other Adobe products. However, it has a few downsides. One of such disadvantages is its expensive subscription fee.
Another downside of Photoshop is that it can be difficult to master, especially for beginners in graphic design and users with low-end PCs specifications.
#2. Adobe Illustrator
Adobe Illustrator is another industry leading graphic design tool, developed by the same company; Adobe Inc.
Unlike Photoshop that produces raster graphics, Adobe Illustrator is used by graphic designers to create vector artwork. This includes, but not limited to logos, icons, typography, and illustrations.
This graphic design software for PC has an intuitive user interface (UI). Another advantage is that it's compatible with other Adobe products.
However, like Adobe Photoshop, its license comes with high subscription costs and can be cumbersome for beginners.
#3. Adobe InDesign
Also developed by Adobe Inc, Adobe InDesign can be used to design graphic items like presentations, posters, magazines, flyers, newspapers, brochures, ebooks, books and lots more.
Adobe Indesign shares a direct integration with other software programs developed by Adobe. It also makes work sharing and collaboration of graphic assets very easy.
Note that this graphic design software can be hard to master if you're not familiar with page layout and front-end designs, or if you have no prior experience as a graphic designer. We advise that you master the above two first before venturing into Adobe InDesign tools.
#5. CorelDRAW Graphics Suite
CorelDRAW Graphics Suite is a comprehensive graphic design software common in the Nigerian Printing Industry. It comes with CorelDRAW work tool, Photo-paint, and other design tools.
Usually, Adobe is the prominent name in the world of graphic design. That's why many people (to this day) find it surprising how CorelDRAW attracted a huge user base.
It's easier to use, and it has a large number of users around the globe. It's also affordable when compared to its Adobe-owned counterparts. CorelDRAW Graphics Suite is also compatible with most file formats.
Speaking of disadvantages, note that CorelDRAW may be slower than other graphic design software. It also has fewer features, when compared to popular paid Adobe alternatives.
#6. Canva Graphic Tool
Canva is a cloud-based graphic design software that's suitable for virtually anyone. For the very first time, we have graphic design software that's made for everyone.
Unlike the other graphic design software we mentioned earlier, Canva is free to use. Users can upgrade to premium versions to access additional features.
You don't need to be a graphic designer before you can use Canva. It's as simple as sending an email or posting on social media. As long as you have a browser and an internet connection, you're good to go.
Canva can be used to make brand logos, event flyers, social media graphics, posters, marketing materials; the list goes on. It has a very large number of free templates and design elements you can implement in your own design.
When using Canva, PC users don't need to worry about storage, battery power or RAM issues. Just launch a browser, visit Canva website, pick an existing template, add text, adjust the elements and boom. There you go!
You can also download the PC desktop app. It's available for both Mac and Windows OS.
The major disadvantage of using Canva is that it's not as comprehensive as Photoshop, Indesign and CorelDRAW. As online creative design software, you need an internet access and a mobile phone or personal computer to use the application.
#6. Gravit Designer Software
Gravit Designer [now Corel Vector] is a cloud-based vector graphic design software that allows designers to create logos, illustrations, and animations.
It has a user-friendly interface and is available on multiple platforms. It also offers a free version with basic features. However, it doesn't have as many comprehensive features as other graphic design software.
4 Best Graphic Design Software for Mobile Phones
#7. PixelLab
Whether you're a graphic designer, solopreneur, or just someone who loves to design on mobile devices, PixelLab is probably the best. In fact, you don't need an internet connection to use it.
PixelLab is a free graphic design software that's available for all Android users. It offers a wide range of features and tools that make it easy for users to create clear and crisp-looking graphics on their Android phones.
Here are some key features of PixelLab:
Over 100 unique options for font styles and effects
A range of 3D text and graphics options
A variety of templates for social media posts, invitation cards, logos, and more
The ability to import custom fonts, images, and backgrounds
An intuitive UI that makes it easy to adjust text size, colour, and other settings
The ability to export work as high-quality images or share directly on social media
#8. Canva iOS and Android Software
We talked about this simple and free-to-use graphic design tool earlier on in this article. Aside from the browser, Windows and Mac OS versions, Canva is also available for iOS and Android.
#9. PicsArt
Picsart is another graphic design software for mobile phones. Users can create, customize and share images and videos. It's available on both mobile and the web.
With PicsArt, it's easy to use photo and video editing tools and filters. This software is basically free. Users can upgrade to Premium, Gold membership that unlocks all of Picsart's advanced photo and video editing features.
#10. Adobe Illustrator Draw
Adobe Illustrator Draw is a free vector drawing application that allows users to create illustrations, logos, and other vector art on their phones.
The interface is simple and allows users to export their work to other Adobe products. However, it is only available to iOS users and requires a subscription to unlock advanced features.
The Bottom Line: 10 Graphic Design Software for Mobile Phones & PCs
Graphic design software has come a long way over the years. With so many options to choose from, it can be challenging to decide which one is right for you.
In this post, we provided the top 6 graphic design software for PCs. We also highlighted the best 4 graphic design software for mobile devices.
iPrints is a Graphics Design Company in Lagos Nigeria. We hope this list has helped you find the best software for your needs, and we wish you the best of luck in all your design endeavours. Contact us for further assistance.