In this post, we will discuss how to print National Identity Card online by generating your NIN code, printing out the slip and collecting your ID Card from nearby enrolment center with ease.
As a Nigerian, your National Identity Card is important for so many reasons. You will need it to open a bank account, apply for international passport, enroll into an academic institution, pay bills and do so many other things across the country.
The National Identity Management Commission (NIMC) have launched its NIMC Mobile App which you can use to get your National Identification Number using your mobile phones. You can download this Application on Google Play store if you are using Android phone or through Apple App store if you are using iPhones.
How to Print National Identity Card Online in 5 Easy Steps
First, let us clarify some common frequently asked questions.
What is National Identity Card?
The Nigeria National Identity Card is an official identification document (usually a plastic card with digitally embedded personal information) issued by the Nigerian government to its citizens or residents; operated and regulated by the Nigerian National Identity Management Commission (NIMC).
Established by the NIMC Act No. 23 of 2007, the NIMC has the mandate to establish, own, operate, maintain and manage the National Identity Database in Nigeria, register persons covered by the Act, assign a Unique National Identification Number (NIN) and issue General Multi-Purpose Cards (GMPC) to individuals for free.
The National Identity Management System (NIMS) is the infrastructure that is responsible for the management of the NIMC mandate.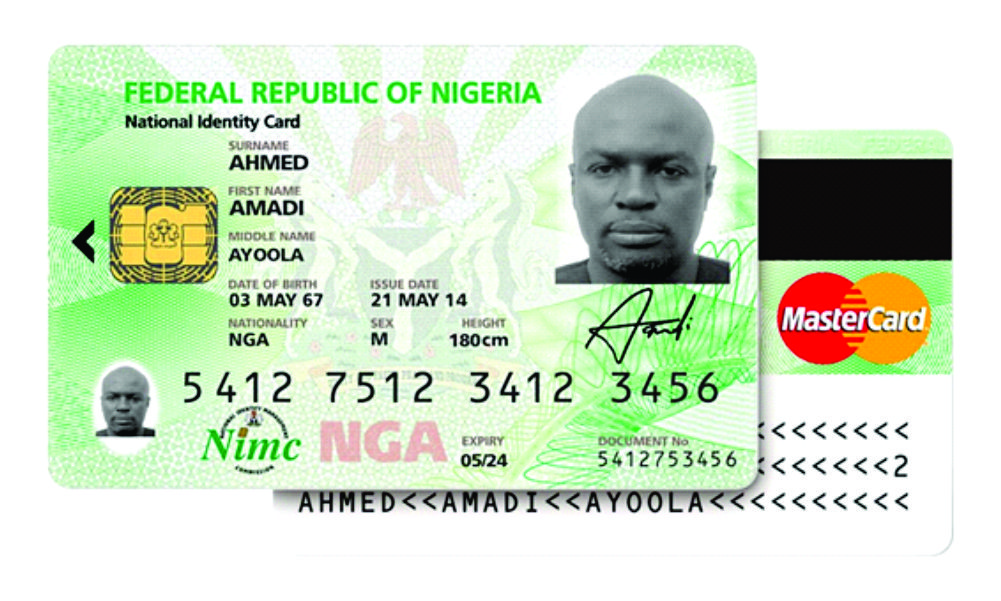 What's the Difference: National ID Card vs NIN?
The two of them are relatively used by people always but they are not the same thing.
The National Identification Number (NIN) is a unique 11-digit number assigned to every Nigerian citizen or legal resident. NIN serves as a digital identity used to link all records about an individual; including biometric data, into a single database.
On the other hand,
The National ID Card is a physical document that contains your personal information, photograph and some identification details. The ID card is usually in plastic form, with an embedded digital chip (like the ones on your ATM debit cards).
However, given the present situation in Nigeria, not everyone has been issued a plastic ID card. In that case, you can tender your NIN slip wherever your ID card is required.
Do I Need to Enroll Again if I Forget or Lost My NIN?
No. You do not need to enroll again. There are two steps to take:
#1. Go to the nearest NIMC office or registration center to report. Supply them with your phone number, date of birth or fingerprints and your NIN will be given back to you.
You may be asked to pay a token of N500 naira through Remita at any bank nearest to you. Provide your Remita Teller to NIMC Enrolment Centre and request for a NIN slip reprint.
#2. Use the USSD code *346# to retrieve your NIN. This code will work on all GSM Networks.  Dial *346# with your phone to get your NIN.
Remember to use the phone number you gave or supplied during the initial enrolment process. This service may cost N20 naira.
Who is Eligible to Obtain National ID Card?
All citizens and legal residents in the Federal Republic of Nigeria are eligible to enroll for their National Identification Number (NIN).
The NIN is issued to every individual who have successfully enrolled; while the ID card is given to individuals who are sixteen years and above – in accordance with the NIMC Act.
Where are the Registration Centres Near Me?
There are Registration Centres across all the 36 state capitals in Nigeria and including Abuja, the FCT.
There are also designated Enrolment Centres in all the 774 Local Government offices nationwide; so feel free to check for your area.
What are the Details Display on My Card?
The information usually on this important card includes personal details like the individual's full name, sex, photograph, date of birth, home address and other identification features.
To get your National ID Card, you have to first enroll for NIN and obtain your NIMC tracking number.
Is My National Identity Card so Important?
YES! Let's start with the obvious. Your National Identity Card is used to prove your identity as a Nigerian citizen. That way, someone else can't claim to be you, just as you can't claim to be someone else.
So, that is very important document you must have as an adult. Furthermore, here is a list of situations where your national ID card/NIN is needed:
Your national ID card for Tax payment
When obtaining your driver's license
During SIM Card registration and Linking
When obtaining your National e-ID card
When registering for your permanent voter's card
For opening and operation of bank accounts
All land transactions subject to the land use act
Registration for the National Health Insurance Scheme
Contributory pension scheme and its related transactions
Applying for an international passport for travel and flight
Applying for welfare and certain services from the Nigerian Government
What are the Requirements for Printing NIN Slip Online?
You need 2 things. First, your Bank Verification Number (BVN). Secondly, you need any of the documents below:
Driver's License
Voter's card (Temporary or Permanent)
Nigerian International passport
Certificate of Origin
Attestation letter from a prominent ruler in your community
Birth certificate
Declaration of age
Attestation letter from religious/traditional leader
NHIS ID card
Government staff ID card
Registered/recognized private organization staff ID card
School ID Card (private/public)
Tax Clearance certificate
Valid immigration documents
Nigerian Commission for Refugees (NCFR) Refugee Certificate
Refugee ID card
Refugee Factsheet
Note: You only need one out of all these verification documents. Only one!
What are the 5 Steps to Print My National ID Card?
Actually, the whole process can't be done on the internet. What you can do online is pre-enrollment process, after which you must visit a physical NIMC office location or branch near you.
#1. Online Pre-Enrolment Process
Open a web browser with your phone or laptop and visit the NIMC website to access the online pre-enrolment form and enrolment instructions.
#2. Generate your NIN with the 2D Barcode
After filling out the Enrolment Form online, you will print out a summary sheet that contains your National Identity Number (NIN) with a 2D Barcode. Your online journey ends here. Everything from here on will be done by visiting a physical enrolment office.
#3. Visit NIMC Enrolment Centre Near You
Take the printed 2D Barcode and head to any NIMC Enrolment Centre. Upon arrival, your headshot photograph, fingerprints and signature will be captured. Your documents and 2D Barcode will also be scanned.
A Transaction ID Slip will be given to you as evidence of the transaction. You will be directed to come back for the NIN Slip within 1-5 working days. After that, you're good to go.
#4. Check if Your ID Card is Ready Online
Visit the National e-ID Card Issuance page.
Scroll down, and you'll see a link that allows you to check your card's status.
Fill in your credentials and NIMC trading ID.
Click on the "Check Now" icon.
You will be presented with information regarding your e-ID status.
#5. Print It and Collect It if it's Ready
When it's ready, you will receive your Batch ID Number via SMS.
Visit your NIMC Card Collection Centre and show them the text message or email printouts with the batch ID.
One of the officers will give you the e-ID Card to confirm your name and address on the Card Envelope.
If it's yours, the officer will run a Match-on-Card (MOC) Verification.
The officer will also activate 5 of the 13 active applets.
Congratulations. You will be given your e-ID National Card
Note: You will be required to enter a 4-digit PIN [chosen by you] to activate your National e-ID Card.
Final Thoughts: How to Print National Identity Card Online
Now you know how to print national identity card inline. Given the current Nigeria situation, printing your National Identity Card will not be without delays, struggles and lots of stress. But with perseverance and endurance, we're sure you'll pull through.
Make sure you have all the required documents before you begin the application process. With the information provided in this guide, you should be able to print your Nigeria National Identity Card Slip online and collect your physical card if available.
This article is intended for general informational purposes only. For more info and enquiries, visit the NIMC official website at Nimc.gov.ng/.
iPrints is professional printing company in Nigeria. We provide high quality printing services and marketing solutions for small businesses, medium sized companies and individuals at competitive pricing. Contact us now if you need any assistance designing and printing your business cards, flyers, invitations or banners for your business or upcoming events.
Photo credit: https://www.bbc.com/pidgin/