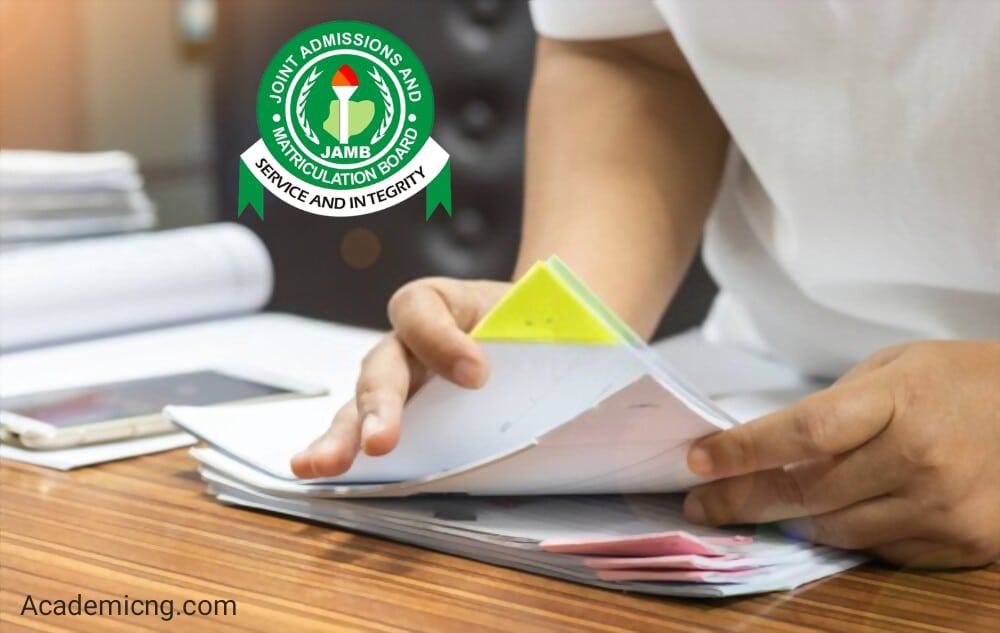 In this post, you will learn how to Print JAMB results from your phone or at any CBT centres near you. JAMB results help potential university students to determine if they have met the stipulated cut-off marks required for admission into their desired tertiary institutions in Nigeria.
After taking the mandatory Unified Tertiary Matriculation Examination (UTME) organized by the Joint Admissions and Matriculation Board (JAMB), candidates are always anxious to check their results either online or at the appropriate CBT Centers.
Before we start, let's dive into the history books. There are a whole lot of things you probably don't know about JAMB and how it operates.
A Brief About JAMB:
Established in 1978, the Joint Admissions and Matriculation Board (JAMB) is a Nigerian examination body that conducts a nationwide examination for students seeking admission into tertiary institutions. These examinations are known as the Unified Tertiary Matriculation Examination (UTME).
Before JAMB was formed, tertiary institutions in Nigeria organised and had absolute control of their own entrance examinations and requirements. Aside from making the admission process very competitive, it made it susceptible to internal corruption.
Since 1978 till date, JAMB has helped to make the admission process simple and more transparent by using innovative technology that have changed a lot of things that all candidates should know about.
Types of JAMB Results:
Result Notification Slip vs Original JAMB Result
There are 2 types of JAMB results that you may want to check and print with your phone or at the CBT center. These are as follows:
#1. JAMB Result Notification Slip (Free)
The JAMB result notification slip or JAMB Examination Slip is free to check and print out. However, it can't be tendered at your designated tertiary institution. This is because it's only a result notification slip. It's not the original JAMB result.
Note that you may not be able to check your JAMB result notification after some time. The JAMB portal for checking the slip is only open for a few weeks after the general exam release, and then it will be closed.
However, it is possible that this result sip can be viewed or printed at any time. We ask that you check and print your JAMB slip now.
Although, this isn't really an issue, since you can always log in to your JAMB eFacility dashboard and check your result.
#2. Original JAMB Result (Paid)
This is the official and original result issued by JAMB to its candidates. All applicants must print their original JAMB result and submit it to their tertiary institution of choice; alongside other documents when processing their first year (100 level) school admission.
Printing of the original jamb result is not free. Candidates have to pay a service fee to JAMB to get this original certificate. As of the moment of this write up, the required fee is ₦1,000 naira only. And this may change in the future.
Now, let's look at how to print the two types of JAMB results from your Phone or when you go to the nearest JAMB CBT Centers in your area.
How to Check and Print Your JAMB Examination Slip with Phone or PC:
Visit JAMB result checker portal with your mobile internet browser (Chrome, Opera, Mozilla, etc).
Input the web address https://portal.jamb.gov.ng/efacility/ in the URL bar.
Input your JAMB Registration Number, eMail address or GSM Number.
Click on the JAMB Examination Slip button to display your result.
Click on the PRINT icon to print your slip via a connected or wireless printer; or select Save as PDF to Download it on your phone.
You can visit any printing shop in your neighbourhood and send the PDF file for them to print it for you at a cheap price.
How to Print JAMB Original Result from Your Phone or Computer:
Visit JAMB result checker portal with your mobile internet browser (Chrome, Opera, Mozilla, etc).
Input the web address https://portal.jamb.gov.ng/efacility/ in the URL bar.
Create an e-Facility Account or Login. You will be taken to the eFacility Dashboard.
Click on the dropdown menu to select your examination year. Then click on "Print Result Slip."
On the next page, you will be required to pay ₦1,000. You can do this using a VISA, Mastercard or Verve debit card. You can also pay with eNaira and many other online payment options available.
Once your payment is confirmed, the JAMB result page will load on your screen. Since you're viewing on your smartphone, you won't be able to print. However, you can Download and Save It as a PDF document as described above.
How to Print Original JAMB Result from Any CBT Center
Locate any JAMB approved CBT centre close to your location.
Visit the CBT centre with your JAMB Registration Number and an identification card.
Request the printing of your original JAMB result and provide the required fee.
The CBT centre will process and printout your result.
Note:
The fees for printing JAMB results at a CBT centre may be higher than printing it yourself on your smartphone. Also, some centres may charge more than others.
Here is the list of JAMB Approved CBT Centers in Nigeria; arranged state by state such as Abuja FCT, Lagos, Port Harcourt, Owerri, Plateau, Kaduna, Borno and all over the country. This is how to print JAMB results from phone or at CBT centers. You may want to know more about JAMB and how it works below.
Notable JAMB Developments & How JAMB Operates
#1. The Introduction of CBT in 2015
After a series of complaints from the general public and the students, JAMB introduced a full-scale computer-based test (CBT).
This is an online examination system developed in an attempt to limit the rates of examination malpractices, quicken the registration processes and reduce the time required to mark the examination papers of candidates.
CBT is a modern, automated and more efficient way of conducting the UTME exams in Nigeria today. It involves the use of computer systems to conduct the examination, removing the need for paper-based testing and manual scoring.
#2. The Reduction of Examination Time in 2017
It came as a surprise to all interesting parties when JAMB reduced the maximum examination duration from 3 hours per paper to 2 hours, back in March 2017.
The registrar of the exam board; Prof. Ishaq Oloyede, said the decision is in line with the best international standards and practices, where candidates were not kept in exams halls like UTME for more than two hours.
The change didn't end there. The test on the Use of English which used to be 100 questions, was reduced to 60 questions. The other three subjects were made to be 40 questions each, making it a total of 180 questions.
#3. Introduction of Mock Examinations in 2017
In 2017, JAMB surely came with a lot of changes. Aside from the exam time reduction, the mock examination was introduced.
Having realised that many students were not familiar with the use of CBT, JAMB had to create something that would help such candidates.
The mock examination prepares the candidates for the main examination, while also helping them become familiar with the use of computers and how it works.
#4. The Introduction of JAMB CAPS in 2017
The Central Admission Processing System (CAPS) was introduced to enforce transparency in the admission process. It placed both JAMB and tertiary institutions in charge of giving admissions to entrance students.
This means both JAMB and the schools must approve before a candidate can gain admission. Regardless of how connected a candidate is, if he/she does not meet the departmental cut-off mark for the preferred course, admission is not possible.
This policy ensured that only qualified candidates are admitted into the Nigerian tertiary institutions.
#5. Introduction of NIN for JAMB Registration in 2021
This JAMB policy was designed to eliminate exam impersonations; where unserious candidates would pay money to brilliant persons to sit for the exam on their behalf.
With the introduction of National Identity Number (NIN) in partnership with the Nigeria National Identity Management Commission (NIMC), JAMB made sure that whoever registered for UTME must be the same person that will write the exam.
To be honest, this policy upset a lot of students and parents at that time, as it wasn't easy to get NIN (as of then). Students will queue for several hours and yet, may not get their NIN in some days or weeks. But eventually, everyone understood it was all necessary for their benefit.
Button Line: How to Print JAMB Results from Phone or at CBT Centers
Now you know how to print JAMB results from your phone or at any CBT centers. We hope this post served your purpose. Remember to contact us if you need further assistance.
iPrints is professional printing and branding company in Lagos Nigeria. We provide high quality printing and advertising solutions for small and medium sized businesses at a competitive pricing.